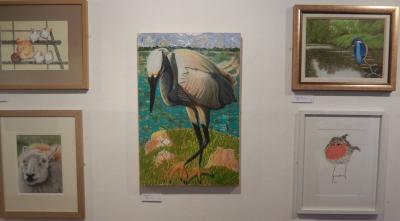 I am super pleased to have had my
'Egret Ready to Strike'
piece accepted into the North Wales Open art exhibition 2017.
Places
The exhibition traditionally has 146 – 150 places and takes up three gallery 'spaces'. Jugdges have the difficult job of selecting from over 200 pieces that are submitted by a very productive regional art community.
History
The competition has been running from, at least, 1986 when Ivor Williams, sculptor had a piece in the competition. Then it was held at Oriel Mostyn. The competition has been held at Theatre Clwyd since, at least 1997. At this time the solicitors
Aaron & Partners
were sponsoring the prizes and they did so for at least the next 6 years.
Prizes
1st prize – £1000
2nd prize – £500
3rd prie – £250
I enjoyed looking at a great variety of subjects depicted using a wide range of media on the evening of the private view, June 24th 2017.