So, following on from last week's second layer I am adding focal images. By no means do I stick to just 2 layers …. it all depends on how the page develops … but for this series of videos I thought it would be easier to follow. I decided not to work on my inky butterfly background and do something else with that in future. That's how it often is with art journaling; you can start a page with great intentions but things don't work out so you have to have a rethink.
Focal Images with Simple Cut Out Shapes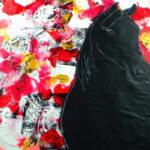 This way provides a very bold result. On my page a black stallion stands out against a colourful background. I create him by tracing from a printed image by covering the back with white neocolour crayon. This effectively turns it into 'carbon' paper and is a very useful technique. I simply trace outlines but I could have added shading or even pattern inside the lines.
Negative Painting Around Focal Images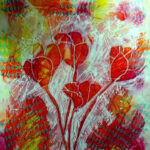 I really enjoy this technique as it means subverting the layering process to use the 'background' as the foreground. For my page I had already added the textural and glittery stencilling on the second layer and might have preferred to add it after this layer. Sometimes you just have to 'go with it'. The white neocolour crayon is quite impressive in how much of the previous layer it is able to cover up.
Impasto/textural Shape for a Focal Image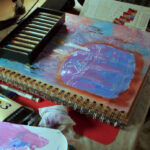 Using impasto techniques (thick paint applied liberally) can really make your focal image 'stand out' from the background… Here I've added a dark oil pastel around the edges because my focal image and background colours were so similar.
Make Focal Images out of Collaged Pieces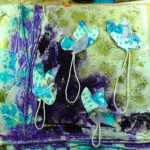 Creating little collage pieces is easy when you use this technique. Draw your images on to the back of some deli paper then collage on the front and finally cut the shapes out. Just remember to reverse the images when you draw them on the deli paper.
I hope this has given you some new ideas to try in your own way. Hugs, Ceri xx