But would art journaling for grief help? I think it depends on the intensity of the feelings and how recent they are. Maybe at one end of the scale where you are debilitated by grief it would be hard to think of anything else, let alone art journaling. At the other end maybe art journaling is somewhere to remember and honour what we have lost. Somewhere in the middle I think a distraction is what is needed and art journaling fulfils this need well. Sitting down with some supplies and a journal, thoughts turn to what you are creating and the tactile nature of the activity occupies you physically as well as mentally. Some respite from the reality of loss.
How I used art journaling for grief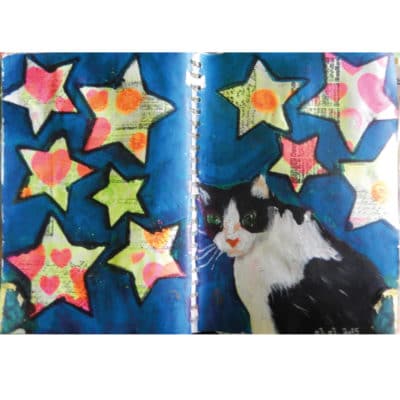 My mum's cat was quite poorly for a while and then, one day, she went outside and did not return. We were all very fond of her as she was such a strong character and the loss and uncertainty of her passing touched us all. It was an unanswered question and I took to my art journal to try to resolve my emotions. First I covered the page with bright fluorescent colours, a direct contrast to how I was feeling. Then I started adding navy, creating stars out of the bright background. I could only imagine her out there, amongst the stars, so I painted her on the page. Looking back at that page today I feel it is a tribute to her determined spirit.
I cannot speak to art journaling for the grief of losing a family member and I would love to hear from anyone who found it helped. Please comment below so everyone can be inspired.
If you are looking for some direction for art journaling during a time of grief I would offer the following prompts:
In my dreams ….
All that you are
Sunset
Ask yourself, how strong are the feelings. If they are very strong, can you create a page about someone/something you still have in your life that is of comfort to you. What is it about it that gives you comfort? Maybe it's a loved ones beautiful smile or the cookies they make. Maybe a friend is always ready to go out for the day … what do you get up to? Any favourite excursions? Remember it is about what gives you comfort not what anyone else things is appropriate.
If is is grief that has lasted a long time maybe it is time to make a page about what you lost. I would try to focus on the positive aspects from before the loss but you may want to picture that thing/person as they are today ….
Remember to take time while you are creating your page to really notice how your materials feel in your hands. How do they react to one another?
Much love
Ceri xx