how
I make decisions.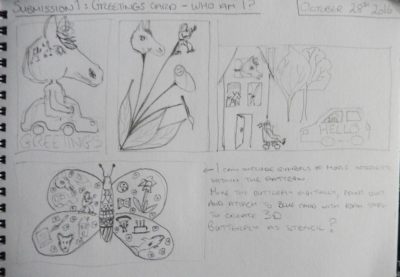 So I reckon I define myself largely through my interests, of which I have many. I picked some and started sketching out some thumbnails (see right).
The final piece represents me on several levels. Although I was initially going to paint the card I decided to make it the way I normally make cards as this is something I often enjoy doing. I also felt that creating the pattern on the butterfly would be easier and quicker using Adobe Illustrator.
I chose a butterfly because it is the symbol of my star sign, Gemini and I think it reflects my varied interests. Also I love the shape of butterflies. The background is blue to match the butterfly tattoo I have and I have deliberately colour co-ordinated the card as that is something I love to do.
One side of the butterfly has darker, filled in shapes while the other has outlines. This indicates the dark/light, male/female sides of my personality which ties in with my mum-dad role as a single parent.
Save