I started with some Google searches for what seven days might mean to other people.

Next I played some creative thinking games (from the book 'How to have creative ideas' by Edwward De Bono).
Task: to create a brief for a series of 7 illustrations around 7 days.
Random Words
Random word: Force

7 days of storming a castle by force
7 days of induction to the police force
7 days of faux gras



Random word: Calculator

The 7 day health calculator
The 7 days green energy calculator
Moving home in 7 days calculator



Random word: Sofa

7 days to buying a new sofa
7 days on the sofa
7 days to get home on the magic sofa
7 days of sofa surfing
last 7 days of the sofa


Briefs
Brief 1
Create 7 illustration showing the production and consumption of faux gras. The aim is to show the negative implications for both animal and human. Each piece should use colour to show the mood. The final artwork will be used on an A2 poster to make people aware about this cruel industry.
Brief 2
Create a diagrammatic illustration showing a healthy lifestyle spread across 7 days. Hand-lettering should be used for the days of the week and labelling. The final piece will be an A4 magazine full page in potrait format.
Brief 3
Create 7 illustrations for a 16 page ezine about the journey back to Bagillt from Australia. Each illustration should show a different point along the route. The illustrations should have a humourous element and include hand-lettering to show the place names. The illustrations should be in portrait format to fill an A5 sheet of paper.
Brief 1
I decided to go with brief 1 even though it is fairly gory. I felt it is a message I would like to get across. So I started brainstorming some ideas and researching imagery and science.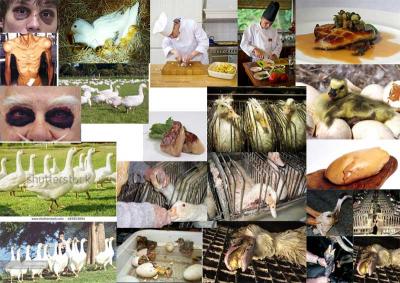 Image research led to this moodboard and then I mind-mapped out some more ideas about what I would include in my 7 illustrations. At this point I considered whether it would work to try and show an ethical alternative to the gavage based feeding system but decided it may lead to a confusing poster. I felt the horror of force feeding needed to be the central image.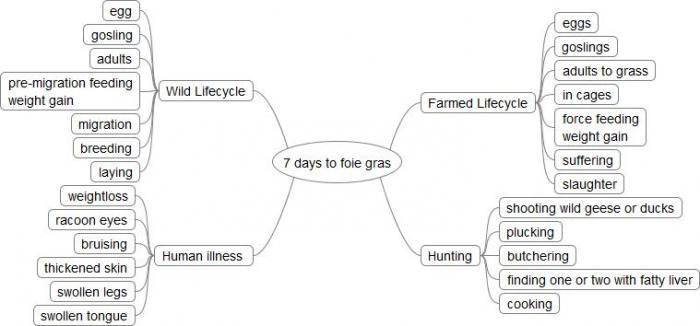 So my list of illustration focusses at this point was:
Eggs and goslings – warm, 'hopeful' image
Adults in field – serene but showing on coming trauma
Caged birds – frustration, discomfort, bleak
Force feed – horror, harsh, dark
Death – neutral, greys
Kitchen – surgical, metalic
Consumption – unnatural, zombie, unhealthy
To get an idea of layout and how the illustrations would interact I created thumbnails on one page and selected the best for each frame. I then created roughs and linework with which I tried out different layouts for the poster. I decided to keep the illustrations quite loose for this piece as I wanted to concentrate on the emation rather than the detail. I selected the poster layout because it gave emphasis to the centre framed through size while still keeping readability of the story.
Thumbnails
Roughs
Linework
Posters
Finals
I used acrylic and oil pastels on A5 watercolour paper to produce the finals. It didn't work so well on the last two frames. I think the 5th frame is the most successful in terms of being emotive. This assignment was easier to concentrate on because of how open the brief was but I chose a difficult topic which was very upsetting to depict.