To frame or not to frame, that is the question …. A border around the page can help frame it, giving a finished appearance. I don't always add borders but sometimes they are just what is needed to finish a page. I have put a different type of border on each of the remaining pages in my series (4) to suggest some options. You may be a fan of one type and just stick to that or experiment with variations of these or make up your own. I would love to see them. Here's a bit about why I chose the borders I did for each page – obviously this is just what appealed to me at the time as well as being examples of different type of borders.
How About a Foam Frame?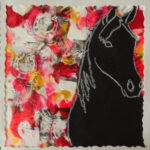 For my paint splodges background I wanted to add a decorative border that was also plain so that it did not conflict with the wild background. It's so simple to do this with foam by cutting the inside edges with decorative edge craft scissors. I added a double sided tape to the back to stick them to the page and trimmed them to fit into one another at the corners. This was done by lining up the borders and using the decorative scissors to cut where they crossed.
Gilded Edges as Borders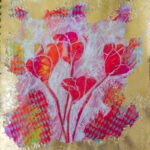 For my inky background page I chose gold leaf because its opacity helped cover the plain edges that had not received ink. The gold compliments the intense oranges and ambers of the background that show through without competing. It also adds a luxurious finish but I was careful to make sure the inside of the 'frame' was rough and random to go with the style of the page.
Darkened Decorative Cut Edges to Frame Your Art Journal Page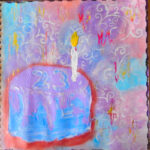 For the birthday cake page I chose to give the edges a delicate cut to contrast with the chunky feel of the cake. Adding ink with a pen helps to give them just enough emphasis. You can use felt tips, crayons, oil pastels, to ink up the edges or even an ink pad or blender pad if the cut pattern is not too intricate. Other options would be to tear the paper roughly or tear it along a ruler to get differing levels of rough and ready.
Smudgy Oil Pastel Pattern Borders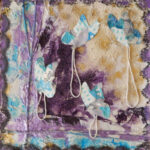 For my final, textural page I chose oil pastels which would be easily applied over all the texture. I used colours from the page design and created a border pattern of a wavy line filled with purple semi-circles. This is a very versatile approach as it is limited only by your imagination. The pattern could have endless variations and could be added with pens, paints, pencils or crayons.
I hope you enjoy adding some beautiful borders around some of your pages.
Hugs, Ceri xx