More contradictions occur when Hawthorn is compared with another tree that flowers early in the year. The blackthorn, also name sloe, flowers earlier than the Hawthorn, also named Quickthorn. It is a source of many jokes when I walk along the coastal path with my mother:
isn't the Sloe quick this year?
Yes, but it's not Quickthorn is it?
and so on and so forth.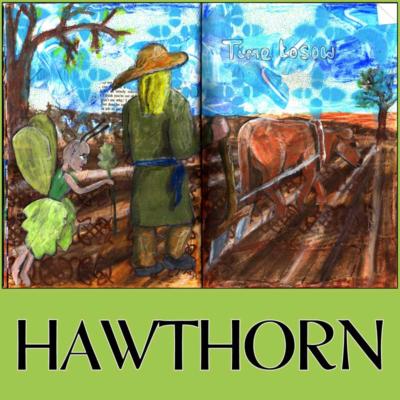 So this journal spread was inspired by the old ways of Celtic farmers: they believed that if, on 24th February, there was a strong new growth on the Hawthorn then it would be safe to plant their barley and oats. I collage a mixture of text and patterned papers to divide my page into sky and earth and add Celtic designs by spraying through stencils. I suggest the structure of a ploughed field by using translucent gelatos and draw my characters on top of this with inktense and gesso. The piece is a quick and loose illustration of a farmer ploughing his field under the watchful gaze of a hawthorn faerie.
You can view a
YouTube video of this Celtic Hawthorn Mixed Media Spread here
.