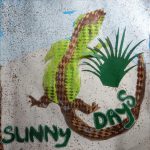 Yesterday, 02/05/2020, I was reading the entry for the day in 'Wonderland' (by Brett Westwood and Stephen Moss). It was a sensory description of the sand lizard and how they need the sun warmed sand to incubate their eggs. I was inspired to create a page about them using embossing powders.
Embossing powders can add so much texture and excitement to a page and in my art journal layout this week I have combined them with micro beads to imitate the lizard's patterned, scaly skin.
But sometimes going from inspiration to idea to completed page is not straightforward. So …. I have included my process with the aim of helping you develop your own independent process.
Firstly I went for a ride on Google, looking for sand lizard pics. I found a few and then imagined a few page layouts. This is not disimilar to illustration work except I didn't need to show anyone my ideas.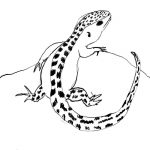 I did sketch up my favourite idea though, see left, and once I had it I enlarged it on my art journal page. Next I selected supplies, choosing natural colours of paint, embossing powder, beads and paper. At this point I planned the order of tasks for my layout. I find this really helps me complete a page despite all the usual household disruptions ….
It went something like this:
Paint background
Create masks of lizard and stripe and grass
Stencil inside lizard shape and stripe shape
Place grass masks and stencil with size and emboss lizard
Emboss sky
Emboss sand
Add lettering
I discovered that tracing paper was not a substantial enough mask to use with the size and that my background of the lizard was not dark enough for the masking with grass to give a shadow effect so I could have left this bit out. I find it's always helpful to think briefly about what could have gone better but to accept the 'mistakes' as they are.
I hope this give you some tricks to try with your own art journal pages.
Hugs, Ceri xx