I started with the decision that I would not give directions to my house as I publish on line, so this was for safety considerations. Next I made a list of steps I would need to convey:
arrive in U.K. from anywhere in the world
Follow M56 to Wales
Follow A548 to Bagillt
Turn left on to Bagillt High Street
Turn right on to Gadlys Street
Several formats came to mind for the instructions including a comic strip, a spiral of instructions (landing airplane), a treasure map. So I made some sketches and mocked them up but wasn't happy with any of them.
The mixture of scales in the first idea caused a lack of clarity at the library end of the journey. It also was confusing, due to being 'upside down' with no compass to indicate this. The second idea was clearer regarding the actual journey but still confusing at the library end. At this point I realised that neither directions would be of any use to someone traveling from somewhere in Wales. It would be reasonable to expect someone travelling from further away to locate the main roads or indeed bus routes into town. As such I decided to concentrate on the actual location of the library and provide information within the image as to how it linked up to the rest of the area.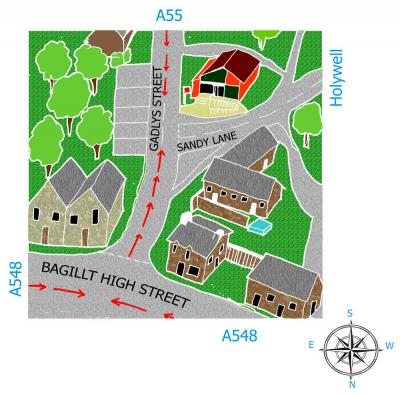 So I drew the following map, using a Google aerial view as reference but (you can probably tell) making up the angle to suit. I felt it was important to show the face of the library and have used colour and placement to give it focus along with the direction arrows. This has resulted in an
'upside down'
map but I feel the inclusion of a compass gives detail needed to anyone who can read maps.
I like the final illustration although I do not think it would represent clear instructions for someone living in China. On balance, the probability of needing to give directions to Bagillt library is likely to be skewed in favour of residents of Wales rather than of China! Technically, I still need to improve my linework.
Update Following Feedback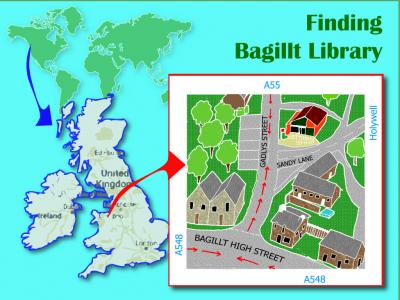 I agreed with my tutor's suggestion to include more of the layered directions and have included maps at different levels of geographical proximity to the target. I have used colour in this version to help the viewer identify the destination.