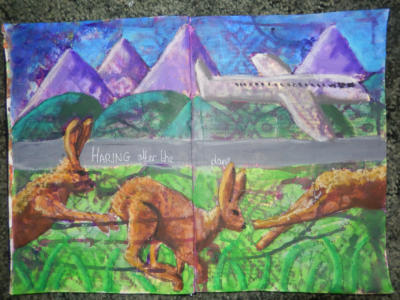 Haring after the plane – youTube
. For this art journal spread I was inspired by brown hares which were traditional Winter fare in the UK. There is some debate still over how native a species the brown hare is. Their boxing behaviour is explained now by the females rebuffing the males in Spring. However, it is unknown why groups of hares on airfields chase after planes regularly.
For this layout I started with some collage then adding fibre paste to create a textured background. I sprayed Kobra acrylic spray through some lace and over a layer of yellow Neocolour watersoluble wax crayons to create pattern. Over this I dripped acrylic inks to add an element of the random and create interest. Using a charcoal pencil I sketched out my design of hares chasing a plane. To create translucency I added acrylic matte medium to matte acrylic paints. Over this layer oil pastels were added to create form.
List of Materials
Americana acrylic (from The Works)