In contrast some art is created in a single layer such as when working graphically. Think of colouring pages where areas of the painting are filled in, in one go.
In digital art the use of layers gives the creator extreme flexibility over the look of the final image. Layers can be added, removed or adjusted after the creation of further layers.
How I Layer
Layering gives a lot of options when creating art. For my
expressive floral art works
I start with a couple of expressive layers that are not thought out too much. In the first I choose colours that work together and apply them with a sponge or large brush or even a roller. I will often add runs of paint now just for the pure joy of watching intense colour flow down the page. Then I add 1 – 3 layers of stencilling/spraying thought lace in colours/tones that contrast highly with the previous layers. At this point I will often have to leave the painting for a few days before I can 'lose' parts of this colourful creation. The next stage is to add line-work which serves to 'save' areas of the background. Then I return with a brush and paint around these lines.
The gallery below shows and example of layering in my art journal: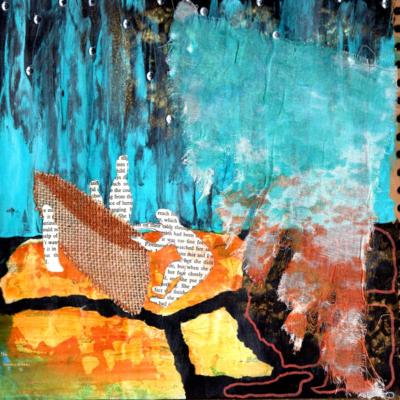 In other art I like to use collage, embossing powder, texture paste, embellishments and oil pastels within my layering. I also use a layering approach when using oils or acrylics to paint people and animals. You can see in the painting to the right, which I demonstrate in my course:
'Playing with Paint'
, how I have added collage over paint and then fabric over that.
Why Do I Layer
For me layering:
allows me to be very expressive, especially in the first few layers
allows me to work by adding to/taking away from previous layers – the first few layers cover the whole page
allows for an element of random to influence the painting providing unexpected results – when I use stencilling and add paint drips
Points to Remember When Layering
Some supplies will move/interact with things put on top of them e.g. distress oxides will interact with any wet media (water, gesso, paint) that is put on top of them. So choose permanent supplies for your early layers i.e. choose archival inks for stamping on the bottom layers. Some supplies will act as a resist e.g. oil pastels, wax crayons, oil/wax pencils, embossing powder, gel medium (to water colours and inks). Oil based supplies will take a lot longer to dry completely than other supplies such as acrylic so should not go under them. Different supplies have different covering power (opacity) i.e. a translucent yellow will not show up over a darker supply.
I hope this has been helpful
Hugs, Ceri xx