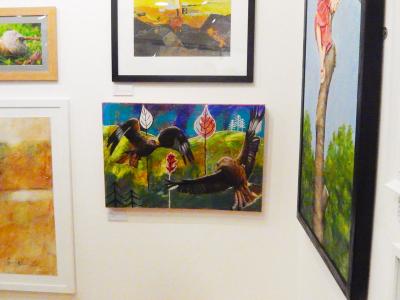 Am very pleased to have been shortlisted as one of 58 from 110 entries for the Qube Open Art Exhibition. It is being held in Oswestry for the 7th year running.  I attended a very busy openning of the exhibition on Friday 11th August which was very well organised with snacks and wine provided. 
The title of the show is 'New Horizons' and can be
viewed at the Qube gallery
in Oswestry until 28th September. There were a rich variety of interpretations of the theme, from space vistas to portraiture and abstract works.
Qube
is a charity linked to the Open College of the Arts.
My interpretation of the theme was based on the hilly horizon of Wales in the background of the painting. On a more personal note 'New Horizons' also means a fresh look at the wildlife and landscapes of my youth through my new found pashion of painting. Painting has helped me through a difficult illness and is literally a new chapter in my journey.