The quote for this page is:
The bad news is time flies, the good news is you're the pilot.
It reminds me that although time on Earth is limited you get to make decisions about how you spend it. Even if you are stuck in bed with illness or have a lot of things that you have to do every day you can still choose what to think about. All the great human inventions we have to be thankful for started out as an idea in someone's thoughts so who's to say that you can't have an idea that changes the world? I loved the idea of celebrating this freedom in an art journal page and the techniques of adding texture that I have chosen hint at the depth of the unconscious mind and the process of revealing what is hidden there.
How to Add Texture to Your Art
Use a texture medium e.g fibre paste or sand gel
Scratch back in to paste to create patterns
Use masks to create lowered areas where there is no texture paste
Mixed media art has many other tricks for
adding texture to your art journal page
.
Before beginning on my textured art journal page I sketched up a few thumbnail ideas for layout and chose one with a clock face painted with a pilot in a dark sky. For me this was a simple way to represent the quote that would work well with some texture techniques.
My Textured Art Journal Page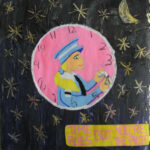 First I started with my background by adding
bright metallic acrylic colours
to the page and blending them loosely. This is a great way to lose the 'white of the page' and
here are some more background techniques
to get you started.
Adding Fibre Paste
Then I mixed some fibre paste with a gradient of blue to black. The gradient in the paint mixing helped to create a gradient on the page to hint at a night sky with the sun disappeared just below the horizon. I applied it dark at the top of the page with the lighter blue at the bottom.
Using Masks
Before adding the paste to the background I placed a circular mask where the 'pilot' would be. This kept that area flat creating more texture on the page. Using multiple masks of different shapes could add a lot to the story of the page.
Scraffito – Scratching Back In
As I applied the paste I scratched back into it with my spatula making moon and star shapes. Once the paste was dry you could close your eyes and 'read' it with your fingers – a really textured art journal page.
The pilot was painted on with acrylics. I used heavy body acrylics and mixed my fluorescent pink with white to provide opacity. Keeping to the theme I scratched back into the paint to make a clock face. Finally the quote was added on a piece of card which provided a flat surface for the writing.
Textured Art Journal Page Process
Below is a video of my process showing the key developments rather than a long realtime view. I hope it illustrates the steps that were taken and remains interesting throughout.