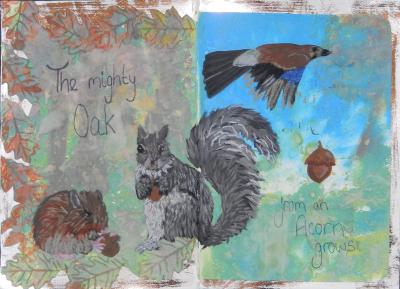 You can see the video of me making this spread here: YouTube – The Mighty Oak.
This art journal spread was inspired by Oak trees. These trees are steeped in tradition in the U.K. especially as they can grow to be so old. Their long life and great size has led to them being recognisable landmarks in many places across the country with a number of famous specimens. I was interested in the theories around why oak saplings have a better survival rate as outliers some distance from estalished woods. One theory that became accepted was that within the woods so many animals eat the acorns that few become saplings and of the saplings that do begin, most are eaten. The acorns that are collected by Jays, however, may be dropped some distance away from these threats and are able to flourish.
I wanted to create a very woody feeling in the background so I used distress oxides to layer up green, orange and yellow mottled layers. I used a custom made oak leaf stamp to create a border which I then cut around to allow the foiling on the outer two pages to show as a ditressed frame around the art journal spread. The animals I added hopefully tell the story of how oak saplings become established as outliers.