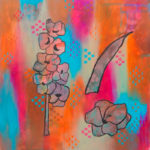 The painting was inspired by the gladioli I grew for the first time in my garden last year.
From this painting I digitally cut the featured images of gladioli stems and blooms and turned them into stickers which you can
buy on my shop here
. This is a really good way to create new art; to take something you have made before and reimagine its role. I show
how I make stickers from art here
, but it doesn't have to be stickers. It could be collage papers, washi tape, embellishments. You can also turn your art into other things like cards, mugs, pins, iron on to fabric, coasters. The list is almost endless if you use a print on demand service like Zazzle or Red Bubble (there are many more … just search 'print on demand') but you can make some at home. What could be nicer than being surrounded by your art?
By giving your art a new role, you might also change the function of the subject of the art entirely. So, for example, in my art journal page I have used my gladioli stickers as trees and bushes instead of flowers. The page then takes on a surreal (beyond reality) appeal. You can turn reality completely upside down in your art journal; let your thoughts wander and see what comes up. Be instinctive and have an adventure. You may get some further inspiration by Googling 'surrealism'. This art movement is known for
rejecting a rational vision of life in favour of one that asserted the value of the unconscious and dreams
~
The Tate
Here is my art journal page. I hope you enjoy and get some ideas for your own pages.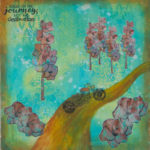 Hugs, Ceri xx