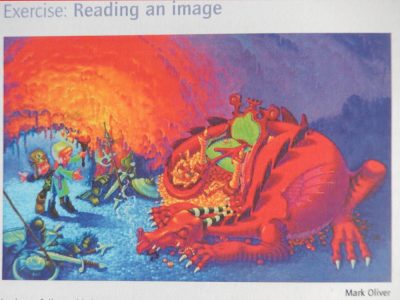 The image contains:
a dragon
a throne
pile of treasure
cave
2 children
heaps of armour
I would say the image is about a dragon, possibly a baby – due to the small size of his wings, and he is asleep but could wake at any moment. From the heaps of armour, it would seem that warriors have been here before. Perhaps the dragon invaded the throne chamber of the King and, having killed the warriors protecting him, wrapped himself around the treasure and fell asleep. Now, 2000 years later, 2 children have found him while exploring.
The illustrator has given the dragon centre stage by using hot colours for his skin which contrasts with the cool blues in the back of the cave. Attention is then drawn to the sharply contrasting green of the throne; green being the compliment of red. The eye is then led through the detail of the treasure on to the textured cave wall behind the children, which is lit up by the torch being held by the girl. Continuing around the image the eye is led from the children, past the piles of armour and along the stony detail of the cave floor, back to the dragon's nose.
It is at this point that I noticed the sharply contrasting black and white of the dragon's horns, leading me to imagine a possible comedic angle to the story ….