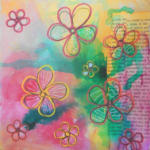 Everyone has their favourite supplies for art journaling. It takes practice to find out what will give you the effects you like best. Here is a list of suggestions to help you get started.
Art Journaling Supplies Table

| | | |
| --- | --- | --- |
| Supply | Notes | Link |
| Gesso | Great for sealing the surface of the page – stops media being absorbed by the paper. Gesso is also useful for blending other media like watercolour pencils, inktense pencils, gelatos, water-soluble crayons.  Gesso can also help to 'knock-back' a very bright background and can be diluted with water to achieve the level of transparency needed. | |
| Matt Medium | Many acrylic mediums are available for changing the consistency or texture or reflective nature of acrylic paints.  Matt and gloss mediums are particularly useful for adhering things to the page.  Fluid versions can be used for light weight papers and heavier mediums for sticking down objects like buttons or embellishments.  Matt medium is especially useful if you want to avoid a glossy shine or surface and you can use it to seal the top of the work and add more marks on top of it. | |
| Neocolour Crayons | These crayons are great for adding larger areas of colour on the page and they can be blended on the page to create different hues and tones. As they are quite expensive now it may be worth getting just the smallest pack and then practice your colour mixing. Blend with white gesso for an opaque pastel tint or with water/matt medium for a more transparent effect. | |
| Inktense pencils/blocks | Inktense pencils are one of my favourite mediums. When 'activated' (by brushing with water or wet media) they give lovely rich colours and can be treated like watercolours except that when they dry they are permanent. This means you can add layer after layer to build up the effect you are looking for. Blend them with gesso or white paint to create lighter versions of the colour. | |
| Ink | There are several different inks you can buy. Some are waterproof when dry others are not. Acrylic inks have pigment in an acrylic medium and when they dry they are waterproof meaning you can easily work on top of them without getting muddy colours. Inks are great for adding spontaneous drips to a page and create lovely patterns when spritzed with water. They are mostly translucent so you can create lovely backgrounds by applying them over collaged papers. | |
| Gelatos | Gelatos are water-soluble wax pastels. My favourite technique for activating these is to apply them on a gessoed background and then smooch them with a baby wipe on my finger. Aswell as creating lovely background gelatos can be rubbed onto stamps to create impressions on your page. | |
| Oil Pastels | Add these over other media for a nice matt effect and a shot of bold colour. They will resist water baed media (such as watercolour, acrylic, ink) if they are added after the oil pastels. Leave the page open overnight to avoid smearing. These blend beautifully with your finger but are not easy to add fine detail with. | |
| Posca pens | These are acrylic marker pens and you can get them with different size nibs. You can ue them to add opaque marks over other media with the control of a pen. Make sure the surface is dry before applying these as the nibs can get damaged, especially by sticky media. | |
| White gel pen | Use these to add opaque white marks on a dry, smooth surface. They are great for adding highlights and when used over watercolour can give an interesting look | |
| Fudeball pen | These are tough little, black ballpoint pens that can write on top of most media and are waterproof when dry. | |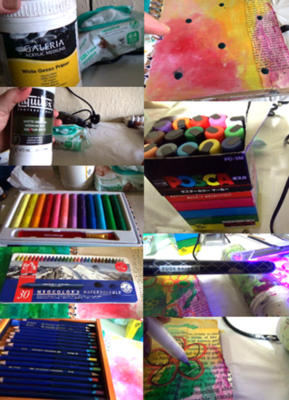 NB:
The links in the table above are affiliate links which mean I get a few pence if you buy the product after clicking. Most of these products can also be found in The Range, Hobbycraft and good art supplies shops. You may also find them cheaper by searching for them on Amazon.
Watch a video of
My Top Ten Art Journaling Supplies
on YouTube.