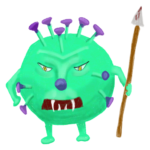 Skip to art journal page about coronavirus
The idea of self isolation has been a difficult one for many people. Older people in particular struggle with isolation regularly. I think the lack of social contact leads to gloomy feelings and maybe of being abandoned. But there are things a person can do to reduce the stress of the experience. Some ideas might be baking, reading, sewing, redecorating at home, going for a walk, sitting somewhere tranquil. Contemplation is a great activity to add in at this point – but what to contemplate ….?
Enter Art Journaling …
Art journaling is a great way to bring a visual outcome to contemplation. Having sat in the fresh air for sometime – 5 minutes to several hours – you will have wandered to many places in your thoughts. Then return home to a cup of tea and a creative space with your art journal and record where you went. You might choose to focus on something difficult that cropped up in your thoughts to help you resolve it further and maybe find some positive way to deal with or repackage it. Or maybe you had joyous thoughts and you want to celebrate these on a page.
Some examples:
Negative thoughts –


Maybe a relationship is going through a difficult patch. You could create a page showing your emotional response to the difficulties – you could use metaphore here by representing emotions as physical things: monsters, fantasy beasts, fierce animals. You could create a page exploring ways to resolve the difficulties. Or you could create a page showing why it's worth resolving the difficulties.
Maybe you are worried about the effects of coronavirus. You could show your worries visually on your page. Or you could create a page showing coronavirus failing to reach you/loved ones/ vulnerable ones. Or you could create a page that focuses on a loved one who you are worried about and show them with all their precious things around them.

Positive ideas –


Maybe you reached a solution to a problem you have been having. What does that solution look like? e.g. maybe everyone wears gloves so you show people with blue/red/yellow hands on your page. What are the effects of your solution? e.g. you could show a 'coronavirus' being flicked away by a gloved hand. What does life look like after your solution has worked? e.g. many dead 'coronavirus's on the floor with a happy family sitting round a table.
Maybe your thoughts were taken to a happy memory you have.You could take key ideas from this memory and include them on your page. e.g. the wedding dress, bouquet, some key features from the venue – maybe the stonework of the building or the logo of the company.
Maybe you are stuck for contemplation ideas. Here are some places to start:
A favourite dress/bag/toy/character/… as a child
One good thing that happened yesterday – could be as simple as a cup of coffee.
If all is well, what will you be doing this time next week? Could be staying in bed reading the paper or climbing mount Everest. You could even be visiting a planet on the far side of the galaxy or a fantasy realm you get to through a mirror.
An Art Journal Page about Coronavirus
First I chose my prompt: 'Coronavirus', being how it's topical an' all! Then I decided to focus on the defeat of the disease in the end. To me that would look like my parents safe inside while the disease lies vanquished outside on the path, never quite reaching the house.
Techniques
Next I thought about techniques to use that would be simple and accessible enough for someone without all the 'art supplies'. I settled on the following:
watercolours, food colour or tea/coffee
clingfilm
image of parents
copy paper
crayon (lipstick or simple pen would do too)
a homemade stamp and ink – not essential as you could draw in the linework yourself
Process
I've made a short animation for you below to see the steps in action.
Cut a piece of clingfilm big enough to slightly more than cover your page – or multiple pieces.
Spritz your page with water – I use an old fry light bottle full of water
Wet your watercolours and splodge around the page
Keep your page wet while working
Cut out your coronaviruses
Take a piece of copy paper and crayon. Place the paper against an interesting texture – I use brick – and colour the back of it with your crayon/pen
Cut a house shape from your copy paper
Turn the house shape over and draw a window to fit the picture you have chosen of loved ones. Make the window just slightly smaller than the picture. Tape the picture to the copy paper so that it show through the 'window'.
You may want to add brick linework and window surrounds to the front.
Attach your house to your page – you can use glue, sewing or staples
Draw in a path to the front of your house and attach your coronaviruses.
You may want to add a decorative border, sun, trees, birds, …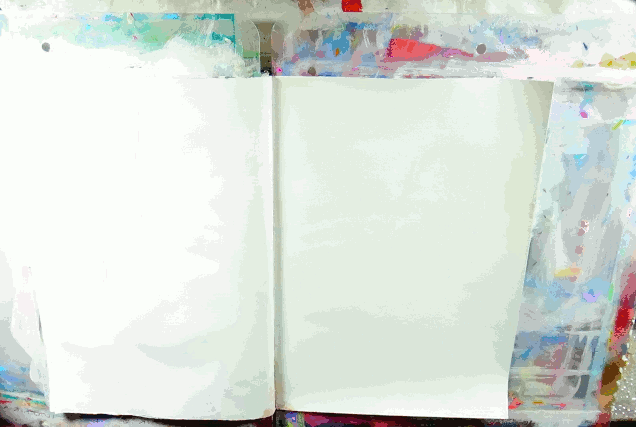 I hope you can have some fun creating arty pages while you are stuck in isolation – and you never know, you might have discovered a new hobby.
Hugs, Ceri xx