Art Journaling as a Self-Creative Process.
In one way it is a journey of self creation that is a process over a number of years. Keeping art journaling as a practice lets you grow through experimentation and reflection. Initially pages may seem ungainly or haphazard or maybe not really connecting to the emotional experience you have. But as time goes by you become more aware of what you like to look at and how you like to do things. Looking back over your pages as the days/weeks/months/years go by is like any other creative process: you do things and then you make changes and improve them. And as you make progress visually, you also make progress mentally and emotionally because in responding to different prompts/memories/dreams/events in your journal you learn about how you see the world. What is significant to you about something that it makes it on to your page? Years later that same page might be done differently with other things being significant.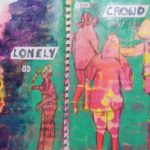 This page to the right (click image to view) I made about 4 years ago. The prompt for this page was 'crowd' and for many people this might have positive connotations – think of music festivals, parties, sports events, discos or even a busy shopping centre. So I started with jolly pinks and yellows but as I drew my crowd I realised these pretty colours did not ring true to my experience of crowds and the page I was creating became more sombre. The creative process was a conversation between me and the page as I uncovered my thoughts in response to what I had made.
Using a Creative Process to Art Journal.
Each art journal page can come to fruition through a creative process itself. Here's an outline view:
Start with a challenge – a prompt word will do or you could choose a dream/memory/event/…
Think about what it means to you. Can you think of objects that might show your response? e.g. for a prompt like 'princess' you might show some of the things that make you feel special or the things that are special about someone who is 'your princess'. Maybe you were given something by a parent that was a special gift and you could use it within your page somehow.
Find reference images – Google, libraries, photo albums, magazines are all helpful here.
Plan your page layout – maybe you are happy to do this as you go or maybe you want to have it worked out before you start.
Choose techniques – maybe you have one way of working, e.g. watercolour, or maybe you like to experiment with different surface treatments and media.
Create your page – maybe you make mistakes: do you cover over them or incorporate them?
Although I have numbered the points above really you can change the order, repeat or leave out steps depending on your own creative process.
Art Journaling as Part of a Larger Creative Process
By this I mean you can use art journaling to help you make decisions about other things you are doing. You might be planning a birthday party for a child and make a page including colour scheme, theme, specific details that would make them happy. Or you might be developing your own meditation and want to visualise it more clearly so you create a scene in your journal or include items in great detail that you will focus on while meditating. Artists often use sketchbooks in an exploratory way when planning a series of paintings. Some journals focus on one theme and each page explores a different aspect of it, helping the artist to discover what is significant or relevant about the theme.
These are just some thoughts about art journaling as a creative process and I would love to hear how your art journaling helps your evolving creativity.
Hugs, Ceri xx