Last week I created 5 backgrounds
in my art journal which I will add a layer each to this week. Of course you can just create backgrounds and go back to them when you have an idea that suits one but I wanted to have continuity so the 5 pages will be created over a few weeks. This is a good example of how you can
make time for art journaling
too – by spreading the process over a few weeks. At the end of a year you will have a good number of pages you have created.
Stamping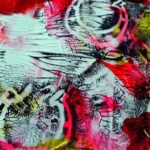 For my paint splodges page I chose to add stamping which picks up all the texture created in the paint by closing the page. Even if you are a massive collector of stamps, and there are some lovely ones out there to collect, sometimes you just wont have one that quite suits the idea you are trying to get across on your page.
Enter EVA foam
… although there are many ways to create your own stamps EVA foam is really easy and can be reused. I created my design in my sketchbook and then copied it on to the foam before heating the foam with a heat gun and pressing the design in while the foam was warm. You do have to repeat a couple times the heating/drawing process but in the end you have a custom stamp. I used archival black ink to ink up the stamp which would allow me to add further wet media (e.g. paint) without the stamped designs running.
Oil Pastels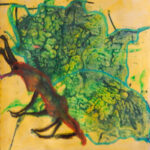 Sometimes when you create a background, especially if you use a random technique like string pulls, you might see a shape or hint of something that you want to keep. Maybe you see something and it turns out to be related to what is on your mind at the time …. Anyway when I made the background I saw a butterfly shape and decided to emphasise this. I used oil pastels to outline the shape I saw. Oil pastels will resist water based media and there is not much you can lay down on top of them so keep this in mind when using them under other layers.
Stenciling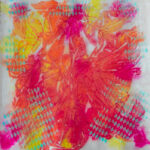 Stenciling is quite a straightforward way to add a layer and there are many designs you can buy quite cheaply over the internet. You can also make impromptu stencils using a stenciling tool/knife/soldering iron with acetate. I used gel medium and added glitter to it before applying it through my stencil.
Foiling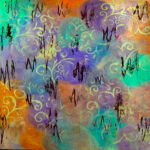 Foiling is a great way to hide areas of the background that you don't like as it is opaque plus you get all that shiny that can show through your next layer. I used metal leaf adhesive to stick it down but you can use gel medium and an iron or a laser print and an iron. What's not to like about adding shiny foils to your page ?
Ink and Water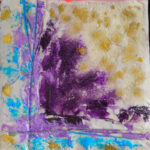 Ink is a very versatile supply and I used it here to colour the very textured background I had created. The ink spreads out when spritzed with water and because it is very fluid will go down into the recessed areas unlike thicker paints. Ink also has a very intense colour unlike watercolour and shows up well even on off white backgrounds.
I hope these ideas give you some inspiration for adding layers to your background. Although you might even fall in love with your first layer, by adding a second/third/fourth/… you get unexpected effects and that is where the magic happens. Enjoy your art journaling.
Hugs, Ceri xx