Mixed Media Jewellery Starts with a Design.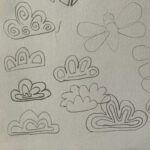 So the design had to be cute and inspiring I start all my designs with pencil on paper and it's not pretty! Chuckle. Of course it doesn't have to be at this stage; it's just a way of testing out ideas. I'm getting better at this as I always used to just run ideas in my head but having them on paper makes it easier to mix and match elements of ideas and 'hopefully' come up with something new and interesting.
Creating Jewellery with Blender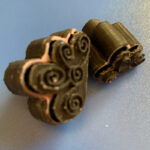 I love to make my own resources with my own designs – it's a way of making the course be part of my brand. For this course I decided on designing a cutter/stamper tool to make the technique more straightforward, similar to the fondant cutter/stampers you can buy for cake decorating. To do this I use an open source program called Blender – it is a really powerful tool that can be used for animating in 2D or 3D. I use it to build 3D models of tools or jewellery designs which I then 3D print.
Mixed Media Jewellery with a Mokume Gane Base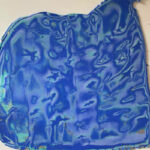 There are soooo many ways you can be creative with polymer clay and mokume gane is a very fun technique that has endless creative possibilities. The basic approach is to stack several coloured layers of conditioned clay and then press tools into it, cut it, texture it before compacting it back up by pressing in from the sides. Finally you take thin slices off top and bottom to reveal the patterning within. It is important to make sure no air bubbles remain between your layers of clay as you stack them or they will spoil the finished pieces when they are baked. It is easy to slice the clay with a tissue blade to remove air pockets but you must be diligent to find them all. It originated from Japanese steel working techniques. The image to the right was my first slab and I improved my procedure in subsequent sheets to add the intrusions when the layers were at there thinnest and then slice the compacted block of clay before rolling to my desired thickness. I used translucent clay in some layers to provide an element of depth which worked best with very thin coloured layers in between.
Before and After Baking
Mixing Media with an Inlay Technique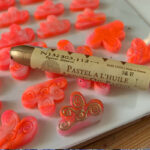 Inlay techniques are common and old approaches to jewellery making and here I have use oil pastels in an adaptation. I used iridescent pastels here to give some sparkle but if you don't have any pastels to hand you can use more polymer clay, re-bake and sand down to remove blemishes. Rub the pastel on to the surface of the baked piece after sanding and wipe away ecess with a baby wipe. It's a bit of a messy job but I think the result is worth it.
Finishing Off Mixed Media Jewellery Pieces
To finish off these mixed media I use a UV resin to seal in the oil pastel inlay and then add eye screws to add beads and findings as necessary. The beads are glass crystal rondelle which I chose because they sparkle and who doesn't want jewellery to sparkle? ;). Here are some pictures of the range:
I hope you have enjoyed this post and maybe come back to see when I have put some of my pieces on the shop. I will update this post with links to the products when they are online. Maybe you will give the technique a go yourself? Here is a lovely book that might also inspire you about
mixed media jewellery
. Hugs, Ceri xx