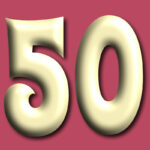 I turned 50 on June 15th 2023 and I wanted to celebrate with a giveaway. For a while it was an impossibility that I would reach such an age [depression etc] but since I have I want to spread the love. What better way to do this than with a giveaway and what better prize than a print of a painting of my best friend – my son's dog Harley.
Giveaway Prize
The prize for one lucky winner will be a print of
this painting.
. The print will be unmounted and on A3 canvas paper with no margin. I will happily point you in the direction of a frame and mount that will fit.
How to be in with a Chance of Being Sent this Joyful Print
Simply subscribe below to my newsletter for infrequent emails about my commissions. You will be letting yourself in for images of paintings of cute and cuddlies, some details about process, offers/discounts and where you can meet me at markets or venues.
The winner will be chosen randomly once the 50th person has entered.
Claiming Your Prize
I will provide you with a coupon that you can add to your cart that will discount the price of the print and the postage.
Here's a little something on the theme of 50 that will do everyone good:
50 Art Journal prompts
. Good luck! Hugs, Ceri xx