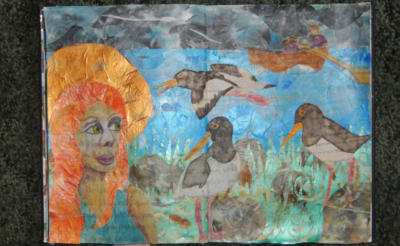 There is a
YouTube Video of this art journal spread here.
Following on from an interest in wildflowers and their medicinal properties I have started reading about the Celtic way of life. The Celts were very concerned with nature and the cyclical way of things. This appeals to me, especially in the face of the damage modern civilisation has done to the environment.
This art journal spread was inspired by the festival of Imbolc. Imbolc is a Celtic celebration of the end of Winter and beginning of Spring and is usually observed from dusk on January 31st in the Northern hemisphere. Like many Celtic traditions this festival was incorporated into early Christian routines, in this case, Candlemass. At Imbolc it was believed that Bride/Brighide restored life after Winter as she left the form of the Hag and became the Maiden. In the form of the Maiden she is associated with fertility and new life. At this time of year she is believed to look out for sailors by sending her bird, the oystercatcher, out to guide them in from storms.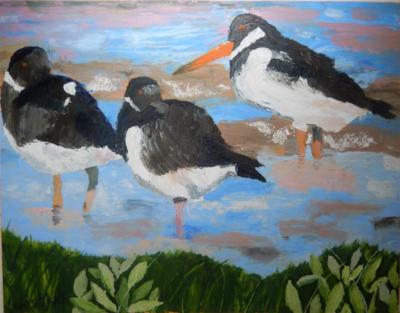 Despite their name, oystercatchers eat mainly cockles, mussels and worms. They live and bredd on most UK coasts. Their striking black and white plummage and orange beak make them a very tempting subject for graphic depictions. You can see some
oystercatchers on the Dee estuary here
.
I made this spread by pulling some gelli prints in the colours I wanted for the layout I had planned, via thumbnail sketches. I made templates on delli paper of the main components of the piece and then adhered the gelli print and Celtic text to them. I assembled the collage with strips, tears and cuts of gelli paper and then added some detail to the Goddess Brighide, oystercatchers and sailors with Inktense pencils. I could have built up more layers of detail with the Inktense but I wanted the text to show through so I kept this layer thin.