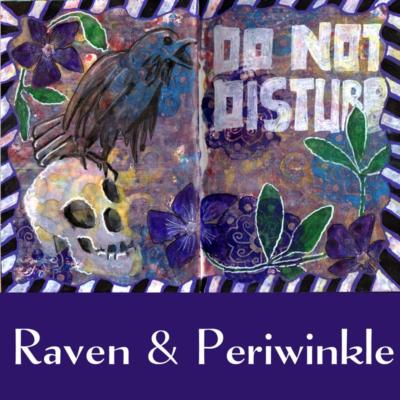 I was reading about Celtic lore for February, the month of the snowdrop. The petals of the snowdrop symbolised death to the Celts so this week I had a look at lore surrounding death. The Celts believed it was unlucky to disturb the periwinkles that they grew on graves and also that it was unlucky to kill a raven. The raven itself is associated with The Morrigan, a terrifying Irish Celtic Goddess. She also goes by the name Badhbh which means crow or raven.
For this art journal spread I wanted to depict a raven, associated with an image of death, as a ghostly impression showing the link to the Otherworld. I chose a skull as an image of death and added periwinkles in a decorative way.
The first layer is of distress oxides giving a mottled, chalky background in a receding purple. Stamps were added with pigment inks and this layer sealed with workable fixative. I added matte medium to make sure the next layer had some tooth to adhere to. The skull was added using gesso and then inktense to provide detail in a loose way. I used watery inktense to create my ghostly raven and a few layers of inktense to add opacity to the periwinkles. The 'DO NOT DISTURB' text was added to emphasise the intimidating nature of the Morrigan.
You can see the process of this video in
my YouTube video
.