This week I'm looking at a common dilemma and one that can actually stop people from trying art at all.
What if I mess it up?
It's the main factor behind the infamous 'fear of the blank page'. I think we are often conditioned, as children, to see our art as 'wrong' by teaching staff in schools who don't understand how to teach it. Helpful comments about how to improve our childish paintings can be read as criticism and even worse some teachers might even outright 'correct' a child's interpretation of something. But interpretation is personal and all important in art … it really needs to be your own. I am on a bit of a mission to encourage people to put their own ideas in their art. An art journal is a great place to make all those pictures you need to make to expand your own understanding of life, be it personal, spiritual, political, comedic, literal, metaphorical, …
Having said all that, sometimes it does all go 'wrong' and by wrong I mean not according to plan. So what can you do then?
In my
series of videos about simple techniques
to get started with I created
5 backgrounds
and then
added 2nd layers
to them but one of the pages did not work out as I hoped.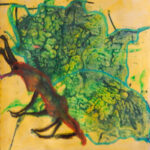 The page was the one created with ink and strings that looked a bit like a butterfly. After adding oil pastels on the second layer I decided I didn't like the way it was going and left it out of the rest of the series. So, this week I have revisited the page and given it new life. You can see in the video above how I've added further ink which, mainly is resisted by the oil pastels – although it does seem to stick to the pastel in places this wouldn't be stable. In order to break up the areas of oil pastel I have applied 2 techniques:
Cover over sections with collage – making sure the paper is stuck on either side of the oil pastel
Add extra oil pastel over sections of the previous layer – it will adhere to the previous oil pastel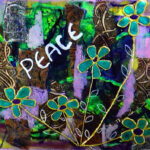 To finish the page off I have added resin flowers which were created by drawing flower outlines with glass paint gutta (not the type that has to be baked) and then filling the shapes, once dry, with coloured resin. I use a mica pigment powder that gives an opaque and metalic finish. I added the word 'PEACE' because I was thinking of all the families who have lost loved ones to corona virus and wish them well. The page I created might not be to everyone's liking but I like it and in my art journal that's what's important.
Any page you are not happy with can be re-purposed like this but sometimes you might just want to accept mistakes or make small 'corrections':
Watercolour can be lifted with a wet cloth
Acrylics can be painted over with opaque acrylics
Inks can be lifted with bleach
Use a good old fashioned eraser with pastels or charcoal
I hope this encourages you to get past your fear of 'getting it wrong' – remember, in your art journal you are the boss!
Hugs, Ceri xx