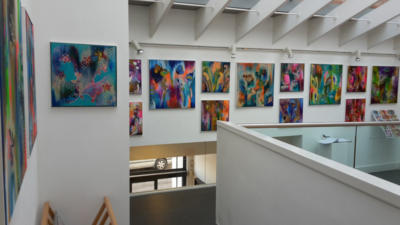 The gallery is a lovely space for artists to exhibit work. My last solo exhibition was in
RSPB Conwy
, also a lovely venue. Also on at Qube gallery during my solo exhibition is an exhibition downstairs of landscapes painted in a loose style which is worth a visit.
Wonderful Wildlfowers is a tribute to the unsung heroes of wild areas, that are fast diminishing. Many of these attractive plants also have medicinal value and have been used for thousands of years. To bring attention to how wonderful these wildflowers are, I have used metalic leaf and interference paints. The interference paints create a dynamic experience for the viewer as they change with the light and angle of viewing the art work. I worked intuitively with these paintings so each is an expression of my mood on the day to some extent. I worked in layers, choosing colours as I felt drawn to them. I add stencils and spray through lace to create texture and then use translucent paint over this to preserve the detail while adding structure to the final layers. I listen to the canvas before choosing a wonderful wildflower, after a few layers, to develop the painting around.
There are 15 paintings in this collection, 6 of which are on 60 x 60 cms canvas and 9 of which are on 40 x 40 cms canvas. Three of the paintings are below:
If you are interested in the process here is a
YouTube video of 'Rugged Ragwort'
.
Please do visit, if you can. Feedback would be welcomed.