High viscosity or heavy body: these guys really give a textural finish, I love them.
Normal, medium viscosity: great for flat painting.
Low viscosity or fluid acrylics: lovely for dripping or using in an airbrush.
Acrylic inks: enjoy for graphic work, permanent backgrounds, writing.
In the beginning I thought if I got heavy body paints and diluted them I wouldn't need the other consistencies but it doesn't work that way due to the pigment to binder ratios. And diluting with water, arguably, reduces the adherence of the paint to canvas. Some artists dilute heavily with water and argue that their work is stable. If you are mainly going to use digital copies of your art then archival properties are not really a concern anyway.
Acrylic Paints Dry Fast
…. with some exceptions. I find that heavy applications tend to dry more slowly anyway and in a humid room you can wait a while before a layer is properly dry. This is useful info if you want breaks from painting – simply spritz the paints on your pallet with water and cover completely. Some types of acrylic paints are made to be slower drying and even have re-opener mediums that allow you to rework the layer once it has dried.
But mainly they dry fast and by fast I mean by the time you have painted 3 strokes the first is dry.
I struggled …
I started painting in oils which take … Ages … to dry, giving you loads of time to 'mould' the image. When I started in acrylics I had got used to changing things on the canvas for a while after I had put them there, but these new paints just refused to budge. At first I looked for ways to make acrylics more like oils by using flow improver and acrylics that stayed 'open' longer but it wasn't until I embraced their quick drying nature that I really fell in love with acrylics.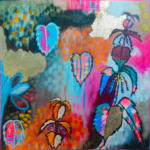 In my series
Wonderful Wildflowers
, through working quickly, I started blending paint on the canvas to create wonderful streaky effects. I worked in layers, adding drips of ink and acrylic spray through lace, and could see the paintings come to life in front of me.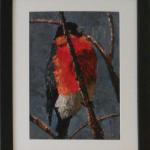 In my
Finches series
I used a thick application of acrylic heavy body paint which allowed me to work a bit slower with a pallet knife.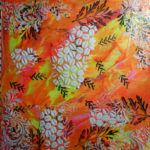 In my art journaling the quick drying nature of acrylics has obvious benefits (thinner applications dry quicker); you can easily build up layers on the page. It's easy to work on top of these guys as they are permanent when dry. They come in translucent and opaque versions so you can choose if you want to see through to the background in different areas.
I hope this has encouraged you to give acrylics a try. You can purchase cheap student versions that are perfect for art journaling to get used to them before progressing on to a canvas.
Hugs, Ceri xx