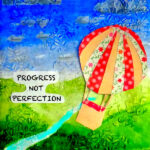 Well this is my first post since 2021/07/25 when I talked about
trying out new styles
. Since then I have been developing a technique for creating resin pins which has involved learning to model in Blender and then how to 3d print and then making the pins in resin and packaging them. I guess you could call that working in a new style although it's one I have developed for myself. I will post about that in a future post and put the pins up on my shop soon. I have also been following a lot of courses in illustration online and am planning to do some work in those styles so that will be coming up soon too.
This post is about week 1 of my upcoming course "Art Journal Quotes" which will take place in Flint library, North Wales. The page is made around the quote:
Progress not Perfection
I think this is an important thing to keep in mind especially for people recovering from mental illness or dealing with it on a regular basis. It is also very relevant to artists who can often feel their work isn't good enough. To me the quote means to look for the improvements in the things I create rather than expecting them to be perfect. Perfection is such an unattainable goal and it is easy to become mentally very negative if you continue to perceive yourself as failing against it. A negative mindset is likely to lead to other mental illness so, to me, it is important to keep things in perspective and balance and this quote really helps with that.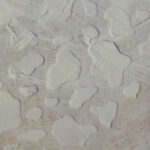 I created the page by adding modelling paste through stencils to a gessoed page. Here's a detail of the texture (clue: look right). I added oil pastel clouds and river to resist the watercolour paint that followed and then created the balloon by cutting patterned papers from a template I had drawn up.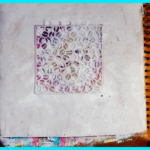 The modelling paste does take a little while to dry made worse by the damp atmosphere but a hairdrier can help it along. There are so many beautiful patterned paper around but recycled wrapping paper will do just as nicely.
I hope this inspires you to worry less about making things perfect and enjoy the ride. Hugs, Ceri xx