Everything will work again if you just unplug it for a while.
I love this quote; to me it means disconnect from everything and rest and then you will be able to start again refreshed. Read more about why this is important in this interesting blog post about
unplugging and recovering
by Roxana.
I often tell my students that an art journal is a great place to try out ideas and even get new ones. That was the case with this journal page. Having made the page I thought it would work better as a gif which could show the before and after of being unplugged. My concept of a cat being plugged in by its tail could probably use some work but it was a fun idea so I went with it.
I started the page with some collage for which I used warm, calm colours. I love starting art journal pages with collage as it adds character to the background really quickly and easily, plus I can't resist patterned papers. On top of this I used matt acrylic to paint on my cat character, clock, socket and plug. Using the matt acrylic makes it easy to work on top with other media, wet or dry. I used Inktense pencils to add the fur patterns and features. Once wetted these become permanent. Shading could also have been added with Inktense by using water to blend it out, creating a gradient. The writing was done using posca pens.
Art Journal Page Step by Step
And here are some more art journal examples that could work as gifs:
Taking it Further than an Art Journal Page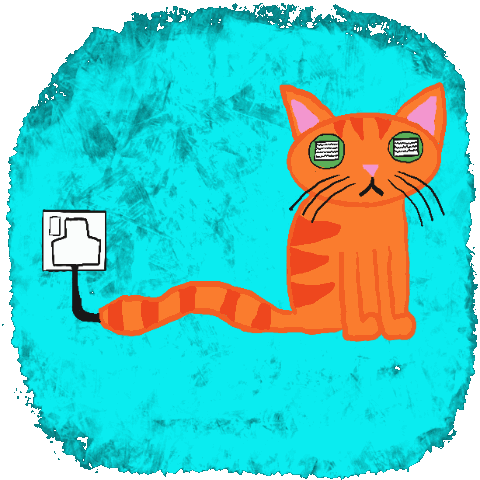 Having been inspired to create a simple gif with this design I opened Procreate and started off by creating the background with all the fixed elements. Then I added frames to animate the moving parts on separate layers, which were:
the whiskers
the eyes
the mouth
the plug
Maybe I should have also showed the hands of the clock moving …. what do you think?
More Art Journal Page Ideas
Have a look at the gifs on
Giphy
for some inspiration – maybe you can reverse engineer some into art journal pages. Want more art journal ideas easy? Check out these pages:
I hope this inspires you to explore some of the ideas in your art journal pages further or maybe try out some more art journal page ideas. Hugs, Ceri xx