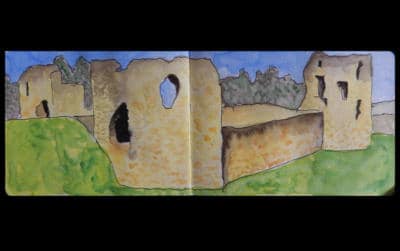 Flint Castle is situated on the Dee estuary. The site was chosen by Edward 1st, during his war on the Welsh, as it was close to sea routes for trade. He had workers from around England forcibly drafted in to populate the new 'town' of Flint in order to build the castle. It was the first in his Iron Ring of castles.
This menacing origin of the castle does not deter locals and tourists from visiting what is now a great location to relax, walk dogs and view coastal birdlife. Someway along the path from the castle lies Flint Football Stadium. It was built here around 1994 on reclaimed land and Flint Football club calls it home.
In an exercise on reportage illustration I chose the walk from Flint Castle to Flint Football Stadium as the prescribed journey to document. Reportage, meaning to 'take home', is a type of illustration used to document events/locations on location. It tends to have a particularly loose feel to it due to the hurried nature of the work. I haven't sketched outdoors for quite a while so this exercise was both good practice and enjoyable.
Here are some of my sketches
(Click to view full size…)
Sketching at Flint Castle inspired me to create an art journal page. I plan to make the page by collaging photos I took of the brickwork on the castle. I am wondering how to incorporate some of the history which includes stories of cow girls taking their cattle across the estuary to graze. Many people have drowned crossing the estuary because of the deceptive incoming tide.